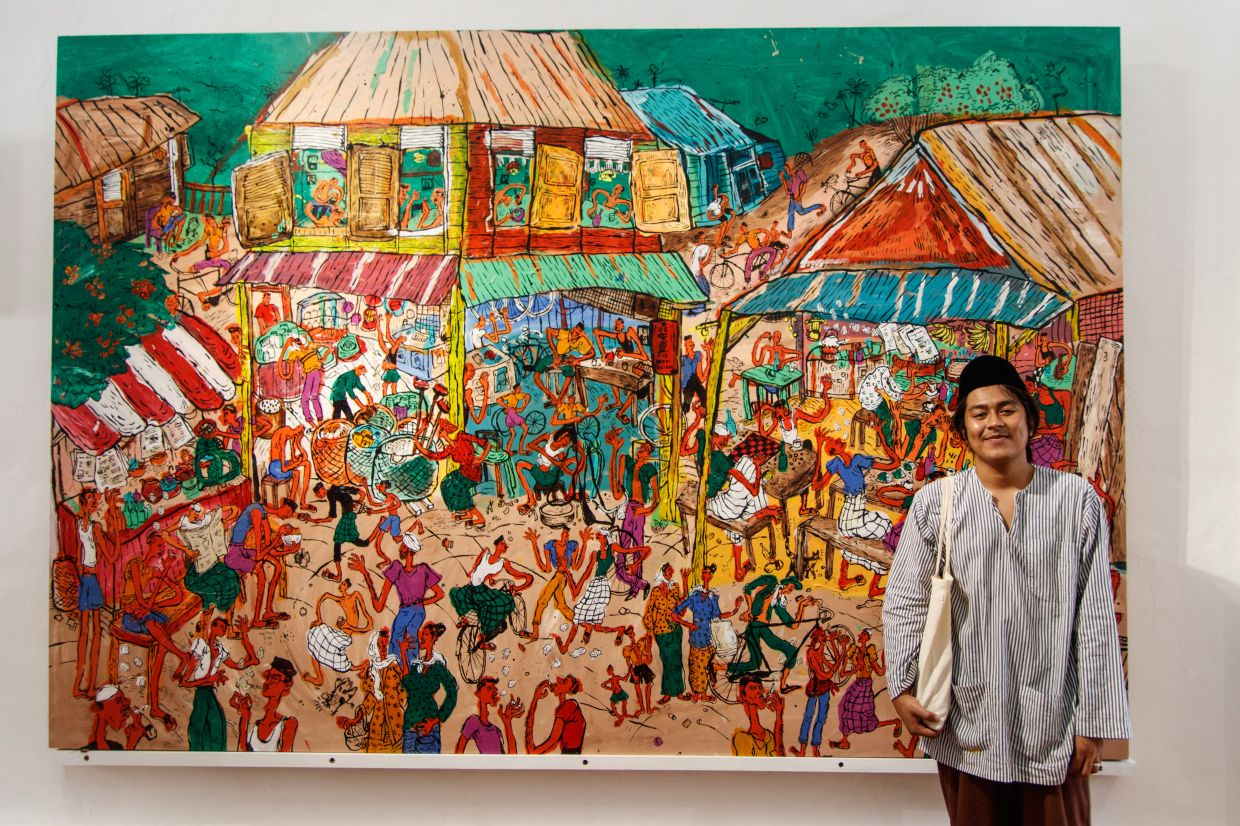 For his solo show 'Pe'el', Kide is showcasing 12 paintings, including 'Kedai-kedai di Desa' pictured here. Photo: Chun Cheah Tang

Kide Baharudin isn't too fussed about exhibition riders.
The Seremban, Negri Sembilan-based artist would have been perfectly happy furnishing his first solo show, featuring a new series of retro Malaysia paintings, with 1960s era props such as old kopitiam furniture, a jukebox and a couple of vintage wooden cupboards to set the old world atmosphere.
For his Pe'el show, Kide admits he feels like he's practically "walking into one of his paintings", especially since the new exhibition space Tun Perak Co-Op in downtown Kuala Lumpur was formerly two pre-war shophouses (Chinese herbal medicine hall and rattan furniture shop).
"The idea to use Tun Perak Co-Op for this show came from Munir (Muhammad, Vans Malaysia brand marketing manager). We discussed getting a suitable exhibition space earlier this year. We wanted to capture the vibe of an old shophouse building in KL," reveals Kide, 30, at his exhibition recently.

The Pe'el show ends tomorrow after a successful two-week run.
"In fact, old shophouse buildings are my favourite subjects in Kuala Pilah town. You can see so many of them in my paintings. I'm really happy to have Tun Perak Co-Op for my exhibition space, you can smell the old bricks here," he adds.

'You can smell the old bricks,' says Kide about his show at KL's Tun Perak Co-Op, which was formerly two pre-war shophouses. Photo: Daryl Goh
Pe'el is a blast of nostalgia or more precisely, Kide using his vivid imagination to present a visual journal capturing the spirit of a small town - Kuala Pilah - through the charming stories and teenage adventures shared by his parents.
Their old stories and memories play a large part in informing and adding colour to Kide's mostly large new paintings. Professionally, he started out in 2014 with digital prints focusing on life in Kuala Pilah in the 1950s and 60s and a series on pop yeh yeh singers.
Today, the affable artist is either actively painting for group art shows or helping his wife with their Kide & Ika print art-based brand (at the Pe'el exhibition, Kide was quick to talk about his wife's art instead of his own). In May, he collaborated with US apparel brand Vans to release a Vans x Kide limited edition surf fashion range.
Kide's Pe'el exhibition, supported by Vans Malaysia and Tun Perak Co-Op, showcases 12 paintings, a sculpture (clay and ceramic) and two repurposed wooden window frames.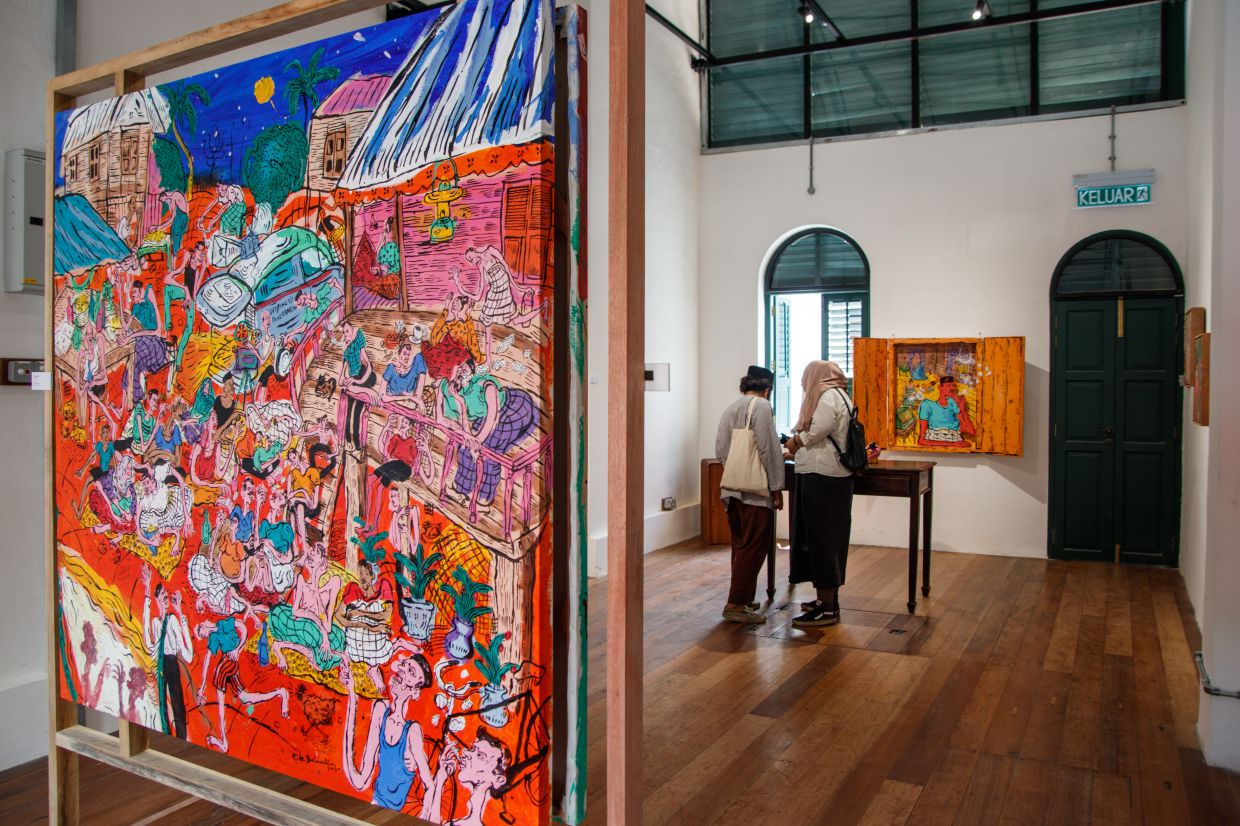 Kide's 'Wayang Pacak' (acrylic on canvas) celebrates the days of street cinema. Photo: Chun Cheah Tang
The works in the Pe'el (a Bahasa Malaysia word that means habit or behaviour) show are typical playful Kide, with paintings packed with fun-filled details.
"My favourite characters who appear frequently? Just look out for an old man smoking a pipe and a bunch of friends smoking cigarettes and talking to each other," reveals Kide, who studied graphic design at UiTM Melaka and specialised in illustration.
From big to small, each work offers something different. Viewers can take their time looking through the larger works - Kedai-kedai di Desa, Kedai-kedai di Pekan, Wayang Pacak and Joget Town Hall - which are buzzing with activity, or they can also peek into a kampung house dinner scene in the Tempoyak Petai painting.
"I love to capture old stories from my mum and dad's childhood days. For this show, I came out with an idea to have pekan (small town) and kampung scenes. This exhibition is populated by lots of small town/kampung folk and their busy activities... things are not so quiet in my paintings. Maybe, you can 'hear' the street noise and kopitiam chatter in these works," says Kide with a smile.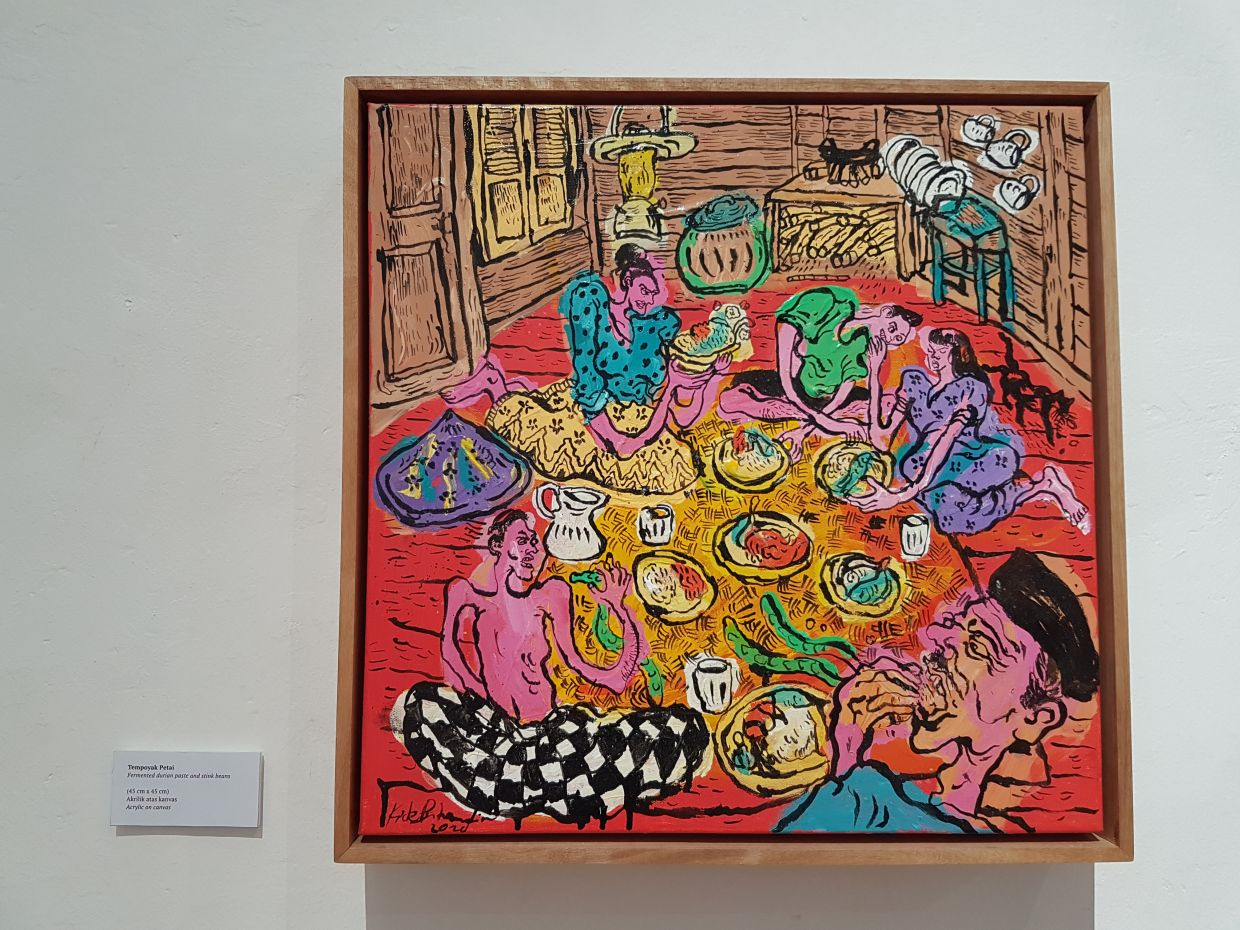 A work titled 'Tempoyak Petai' (acrylic on canvas), which pays tribute to a Malay dish featuring fermented durian paste and stink beans. Photo: Daryl Goh
"For the Tempoyak Petai work, I never had a kampung house childhood, or enjoyed the 'atuk and nenek' experience. That's why I'm really interested in my parents' stories. They lived in the kampung, visited the town regularly. In my paintings, I'm revisiting their younger days, " he adds.
For exhibition research, Kide also referenced old photographs, classic Malay movies and old Malay music lyrics. He even made the effort to compile a jukebox setlist, including local classics from Abdullah Chik, Abdul Rahman, P. Ramlee, Saloma and R. Azmi.
The only thing missing is a 1960s themed house party, with talcum powder strewn on the dancefloor to keep the partygoers from slipping.
"That's an idea for the next show," says Kide.

Kide Baharudin's Pe'el exhibition, open 10am to 8pm, at Tun Perak Co-Op in Kuala Lumpur ends Aug 2. The show also features a pop-up booth of Kide's Van's limited surf series.